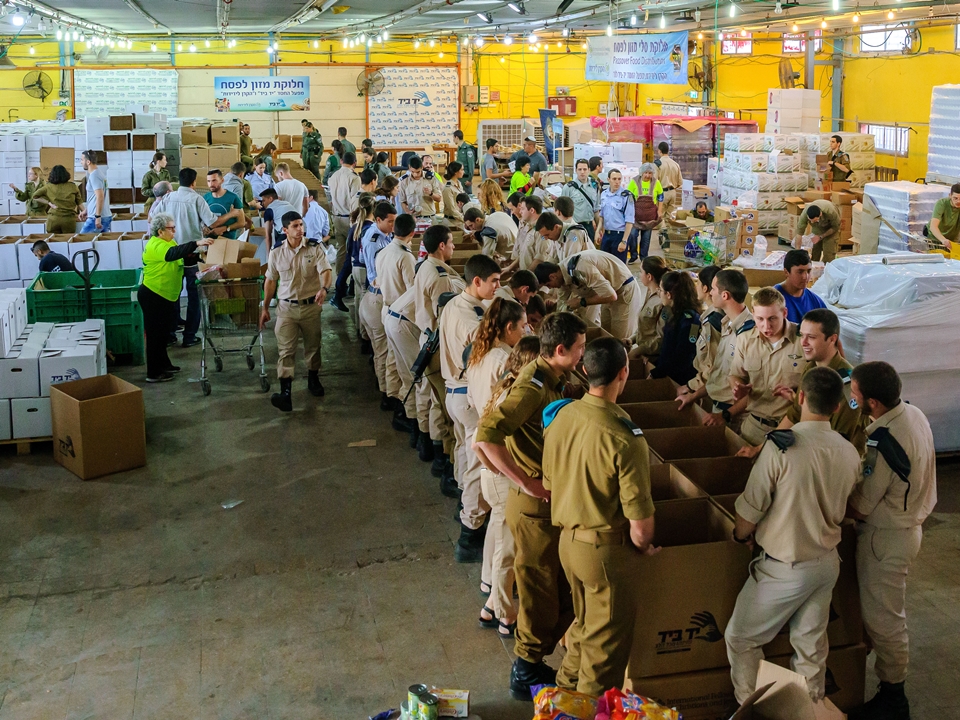 PASSOVER – 'KIMCHA D'PISCHA'
A few weeks before Passover, dozens of trucks loaded with kosher for Passover food arrive daily at the Yad B'Yad complex in Lod. With the help of volunteers from diverse communities and soldiers, thousands of food packages are prepared for the holiday. Each package has over 30 items including: matzot, wine, fish, poultry, sugar, tea, coffee, canned foods, drinks, fruits, vegetables and more.
The packages are distributed to the needy all throughout the country in cooperation with the welfare authorities.
As we emphasize during the Passover seder, it is a great and important mitzvah to contribute food to the needy for the holidays, as we say "kol dichfin yetey v'yeychol" – "All who are hungry, come and eat" and thus you shall be blessed from God.
THE HIGH HOLIDAYS
Every year for the High Holidays we, together with our diverse community of volunteers, prepare to receive and package thousands of food products for distribution to the needy. We distribute thousands of special food packages with holiday products such as honey, apples, poultry, fish, canned goods, wine, fruits, vegetables and more.
YEAR-ROUND
Throughout the year, including the holiday seasons, we distribute over 40,000 food packages to the needy throughout Israel.