Minister of Welfare and Social Security Yakov Margi arrived for a tour of the 'Yad BeYad' led by CEO Rabbi Yakov Globerman • Minister Margi on the tour: "Seeing the great activity of Rabbi Globerman- it gives me strength to act"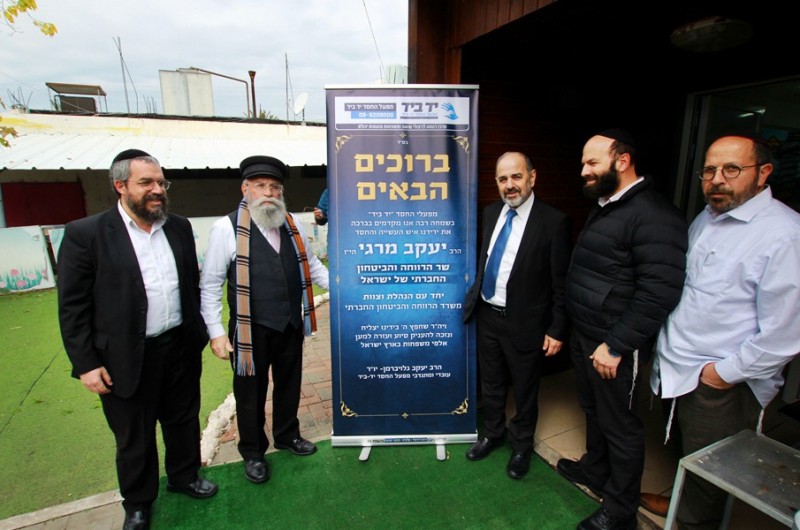 Minister of Welfare and Social Security of israel Yakov Margi came for a tour of the Mifal Hachesed Yad B'Yad – kindness and assistance centerby CEO Rabbi Yakov Globerman.
The organization's director and founder, Rabbi Yaakov Globerman, reviewed the organization's activities throughout its 23 years and the tools it uses to help thousands of elderly people and families with their well-being every month.
The minister toured the logistics center of the organization and was very impressed by the scope of the large and extensive activity of the association that helps thousands of families, elderly and lone soldiers with food items, Passover flour, hot meals, Shabbat food, clothing, children's costumes, furniture, electrical products, assistance to brides and grooms and more.
The visit was joined by the Chabad businessman from the management of the organization Rabbi Haim Galinsky.
At the end of the tour, Minister Margi said: "Hearing is not the same as seeing, I know Rabbi Globerman and the charity activity he has been doing for many years, today I was exposed up close to the empire of charity.
Being the minister of welfare is a great challenge and hard work, but seeing the great and blessed activity of Rabbi Globerman gives me strength to act."
Yad Bid CEO Rabbi Globerman: "I thank you, Honorable Minister Margi, for coming to see the association's activities up close today.
You are known as a compassionate man of action, you are the right man in the right place."
At the end, Rabbi Yaakov Globerman and his son Rabbi Betzalel gave him a special token of appreciation.
It should be noted that these days a huge operation is underway at the Yad BeYad charity center to distribute thousands of costumes for the holiday of Purim.